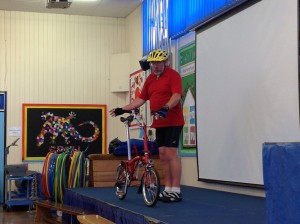 This morning in assembly the children met Dr Bike and his amazing folding bicycle.
Dr Bike, otherwise known as Mark O'Keefe, talked to the children about bike safety and the importance of wearing a bicycle helmet.
This week he has been working with the Year 5 pupils who didn't go to Thurston.
The children have had a 'getting to know your bike' session and today the children will be working on cycling skills.
Dr Bike will return in July to deliver more exciting bike related lessons to our chidlren.